Skip-the-line Hermitage Tour in St Petersburg
Visit the Hermitage Museum with Marina Wilson Private Tours.
We provide the Hermitage Museum Tour in St Petersburg in English, Spanish, French, German, Italian. The tour lasts for three hours and you can stay on in the museum after your guided tour is over.
May 1 — September 30 the Hermitage tour starts at 10:00
October 1 — April 30 Hermitage tour starts at 10:45
The meeting point is located at Palace Square near the Alexander Column.
There you will be met by our manager or guide with a Marina Wilson sign. The groups are usually no more than 10 pax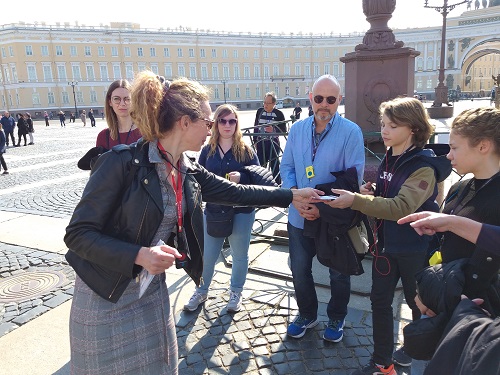 During the Hermitage Museum Tour you will visit reception halls of the Winter Palace, which is a part of the Hermitage museum complex, and will view the highlights of the Western European art collection located in the buildings of the Small, Big and New Hermitage including Leonardo da Vinci, Titian, Rafael, Diego Velasquez, Michelangelo, Rembrandt, Rubens and many others. The collection of the Impressionists and post-Impressionists is located in the separate building and has another ticketed entrance. You can choose to add the Impressionists collection tour as an add-on tour to your Hermitage highlights one.
Important!
Hermitage Museum Tour in St Petersburg is a group tour. We need to depart no later than 15 minutes after the start time. Please don't be late.
During the high season admission time may vary depending on the Hermitage tickets release.
If you need a private tour there is an option in the booking form. It costs USD 150 and includes a hotel pickup.